Cyrus Kouandjio LT Alabama – Dominant Pin Block
Cyrus Kouandjio LT Alabama – Dominant Pin Block
Alex Dunlap, RosterWatch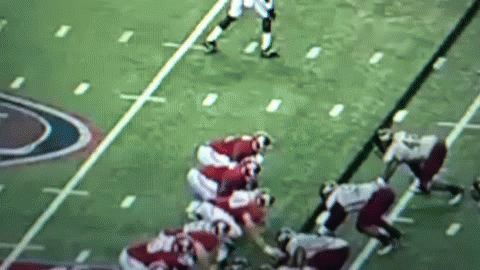 While Greg Robinson (Auburn) and Jake Matthews (Texas A&M) represent an undeniable No.1 and No.2 tandem of 2014 NFL tackle prospects (deciding which is number one is the only hard part), Cyrus Kouandjio of Alabama exists in a tier all his own at the No.3 position among OTs as the NFL calendar turns toward the NFL combine.
In the .gif above, you see Kouandjio's innate ability to latch on and drive with authority and a mean-sprit. Kouandjio has better-than-average feet, a great upfield motor, and the agility to execute second-level assignments within Alabama's inside-zone scheme.
As a pass blocker, Kouandjio has issues with his balance and out-of-control nature when resetting his kick-slides, but at 6'6″ and 315 pounds with room to fill out, these issues should largely cease with a year or less of development within an NFL system. Barring a catastrophe at the NFL combine, expect Kouandjio to be taken within the first 20 picks of the 2014 NFL draft.